Good afternoon from rainy Australia!...its so gross outside. Its rain season in Townsville right now. Last year it rained for 40+ days straight! It gives me a good reason to wear boots though..but I have no inspiration to take pictures because my hair frizzes up and looks like a lions mane!
Last night Nathan came over before his band practice and made me a delicious dinner. I pitched in and helped by cutting the vegetables...this might be classified as a underdog sort of job - but it was essential for this delicious stirfry! These are all pictures from last night - I am wearing my favorite tshirt of all time : "the shark attack"..its a giant shark - it was one of the first line of shirts American Apparel came out with. Amazing!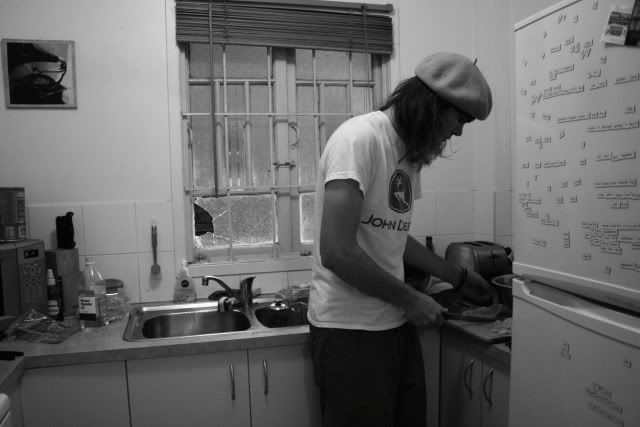 I am in need of some new and fantastic music. Im into pretty much anything - so send me some suggestions! :)
Tonight we are having an Australian Day celebration..Australia Day was actually yesterday - but the place I work didnt celebrate it because everyone was too busy. How can Australians be too busy to celebrate their own country? This I dont understand..but I am excited for tonight. Lots of Australian food, hot drinks, and getting cozy for the movie "Australia"..how appropiate.
Well thats all for me today. I hope that you are all having an amazing day/evening. Lots of love from me to you. x